Another report on China Daily. This article is much of an eulogization of Filipino maids, calling Filipino maids 'Trustworthy, industrious, highly educated, English-speaking, fun and caring'.
Demand for Filipino maids on the rise
By Karen Yip (China Daily)
Updated: 2010-11-08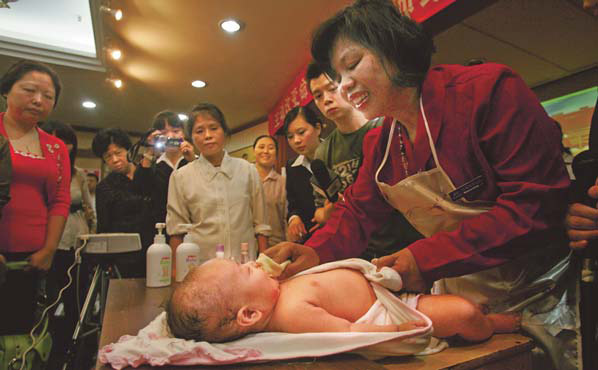 A Filipina maid demonstrates her babycare skills during a lecture to her Chinese counterparts in Chengdu, Southwest China's Sichuan province. [ZOU FEI / FOR CHINA DAILY]
But many break the law by giving them employment, say experts
BEIJING - Trustworthy, industrious, highly educated, English-speaking, fun and caring - these are some of the qualities that Filipino workers are known for worldwide.
It's little wonder then that increasing numbers of Chinese families who can afford to pay more are willing to hire Filipina maids, even at the expense of flouting the law.
Four-year-old Sophia Wang (not her real name) says she is closer to Auntie Tess - a name that she fondly calls her Filipina maid - than she is to her own mom and dad.
Her parents, both working professionals in their mid-30s, let Auntie Tess or Maria Teresa Cruz (not her real name), 48, who hails from Batangas in Luzon, in the Philippines, take charge of the household.
"She will grow up to think and behave like half a Chinese and half a global citizen," said Maria Teresa, who has worked as a maid in Saudi Arabia, Hong Kong and Malaysia for 10 years in total.
That is already evident: Sophia Wang is different from her Chinese classmates at a public school.
She naturally speaks fluent English. She doesn't waste food because she was trained to finish her meals. She tidies up after playtime. Like a typical Filipino, she enjoys singing, dancing, a sense of adventure and speaks her mind. Imitating her maid, who is a staunch Catholic, she prays but has yet to fully grasp the meaning of religion.
"She will be special. If she throws tantrums, she is immediately silenced. I have seen spoilt Chinese kids throw shoes or beat their Chinese maids and they are allowed to do it. I also make sure she changes her clothes every day," said Maria Teresa, beaming with pride.
After a personal introduction, her Chinese employers took an instant liking to her. She has lived with the Chinese family for two years on a business visa that her employers take the effort to renew every three months with the help of an agent.
She makes 3,500 yuan a month ($525), twice the average salary of a Chinese maid. In Beijing alone, the starting monthly salary for a Filipina maid is estimated to be 3,000 yuan.
Fringe benefits include free travel - for business or pleasure - with their Chinese employers. Some Filipina maids are even required to help plan and make appointments in English for their Chinese employers.
The Wang family, together with Maria Teresa, will spend Christmas this year at Hong Kong Disneyland.
It is estimated that there are eight million Filipinos working abroad. In 2009, they sent home $17.3 billion, according to data from Bangko Sentral ng Pilipinas, the central bank of the Philippines.
Overseas Filipino workers (OFWs) sent $15.9 billion of remittances to the Philippines in 2008, up from the $14.4 billion in 2007, and $13 billion in 2006.
Money sent home by OFWs is a major contributor to the Philippine economy through the creation of new businesses and consumption, property purchases, and financing education.
Currently, foreign maids are not allowed to work in China. The only official way foreign maids can do so is if their employers are diplomats. Chinese laws allow diplomats to bring their personal staff of any nationality into the country.
However, unscrupulous agents are capitalizing on the popularity and demand for Filipina maids by word-of-mouth to wealthy Chinese families. They acquire visas using false documentation.
It is estimated that 75 percent of "hidden incomes" belong to those in the high-income category, which covers more than 2,000 urban families across the country. As personal incomes rise, the demand for domestic services will also increase, as is already evident.
"We have been telling our nationals that the domestic maid market is technically closed. Given the sheer number of people in China, we understand that the Chinese have to protect their labor market," said Noel Novicio, spokesman at the Philippine Embassy in Beijing when contacted by China Daily.
Based on registration at the embassy, there are 100,000 Filipinos currently residing in China. Out of this, 100 are in Beijing.
The Philippine government is working with the Chinese authorities to implement domestic labor laws and prevent foreign workers from becoming victims of scams or of their own ignorance.
"The market is experiencing a tight labor shortage. Because of this, the salaries for maids have increased. The Filipina maids fill a gap in the Chinese maid market," said Professor Zhao Yaohui, a specialist on labor economics at the China Center for Economic Research, Peking University.
"There is no stigma associated with being a maid in the Philippines and among the Filipinos. In fact, being a maid is a professional job. But it's a different story in China."
Women from China's rural areas, who usually take up jobs as maids, are abandoning the occupation to pursue better opportunities in the factories, she said.
"Society imposes a negative image of the maids. It is seen as unglamorous to be a maid and it's a lowly paid job."
She said due to this factor, which has partly contributed to the labor shortage, the salaries for Chinese maids have increased by at least 200 yuan a month from 2009 to 2010.
The International Labor Organization (ILO) in Beijing said the Chinese government has identified domestic work as a growth sector and is developing policies not just to promote employment but also to ensure the protection of domestic workers.
"Where there is a demand that cannot be met by the national workforce, opportunities for legally recruiting and employing a migrant worker should be considered," said Chen Qiaoling, an officer at the ILO in Beijing.
At the same time, domestic workers in China should have access to training opportunities and greater protection under the law to ensure a professionalization of the sector, he said.
"Many Filipino domestic workers are in diplomatic households. There are also those who work in households of international business professionals. It is expected that they move with their employers on the employers' foreign assignments.
"With China now an important center for international diplomacy and business, granting legal entry and work permits for diplomatic households is commonplace. It would be natural then to see more Filipino domestic workers in China as there are in New York and in Geneva," Chen said.
"I don't think China needs to import labor from other countries at this stage of its development," said Professor Pradeep Taneja from the School of Social and Political Science at the University of Melbourne.
If already there are significant numbers of Filipino domestic workers in China, then the Chinese government has to make sure that they are treated fairly and not subjected to physical or psychological abuse as has often been reported from other countries in the region where large numbers of Filipina female workers are employed, he said.
Du Juan contributed to the story
China Daily
With readers' comments below:
Comments on this article
Total 11 [ 1 ]
The Other Side 2010-11-08 15:17 @C.P. 2010-11-08 09:52
Nothing wrong with English spoken with one's local accent; I just wanted to point out that the writer's "fluent English" is really the tagalog variety. If you don't mind your kids speaking like that, then that's fine!
One-sided 2010-11-08 15:07 @The Other Side 2010-11-08 08:33
Good of you to present the other side of the picture! The article is one-sided, says nothing of the down side. While it is a general view, the other side should also be presented; that is good journalism!
Otton Bexaron 2010-11-08 14:55 "Filipina" is a spanish word: Spain occupied those islands in Asia in the middle of the 16th century. The Spaniards reached Manila by sailing from Acapulco on the West Coast of Mexico, then called "New Spain" as part of the Spanish America, across the Pacific. In those islands, the Spaniard met the Portuguese who had sailed directly from Europe around the south of Africa. Today a formal shirt worn in tropical Latin America is called "Filipina" - because the Spaniards introduced the shirt style from Manila- where they had seen in worn by sailors from CHINA: The "Filipina" shirt worn today in tropical Latin America is really of chinese origin and the style similar to traditional chinese garments.
Workers shld 2010-11-08 11:02 not be treated as sex objects..this is a wrong concept..treat them well and 99% of them will be better than the anglos who will smear you for what ever good you give them..this my food of thought..Filipinos 100% much better than angloid-krauts!
larrydu 2010-11-08 10:07 These wonderful maids provide a valuable service. I first took my little laotian wife dumfuk as a maid back in the 70's. She proved to be a valuable asset to my life so i married her. Next to her withered 4'8" frame, I'm a giant. Also, next to her bacon brown complexion, I'm practically white. All in all I love china and think foreign maids are great!
C.P. 2010-11-08 09:52 I think this article should be taken as a general overview on Filipino maids. Of course, there is always a bad apples among them. It is like saying Singapore is a safe place. However, it does not guarantee that crimes like thief, abuse, etc. do not exist. In hiring people (employees, maid, drivers, etc), we must do our homework (interview, checking, etc.) and hopefully, they are okay.
I also agree that Filipinos have Filipino accent when they speak english. Doesn't Singapore, indonesia, malaysia, australia,China etc. have accent as well when they speak english. It is like saying one is just willing to pay for BYD car but expect a Mercedes/BMW performance and standard.
Treat them well 2010-11-08 09:19 americans are murdering their families and so are others..but winning the hearts of Filipinos are easier..there are people who are deranged, but the angloid-krauts are 99% deranged. Beware of them.
ganzhuolin 2010-11-08 09:18 Well, if it's against the law then how can you protect maids from bad employers? Surely they'll be afraid to report bad employers coz they've already broken the law...?
Also any employer who felt that he was scammed by a maid, or whose family was harmed by a maid will think twice about reporting her coz he also broke the law in the first place...
steve 2010-11-08 09:08 It is quite hard to get decent maid in China. Too many request or condition, etc. Also, Local maid seems to treat the job lowly. Thus, quality of work is really so-so, or below standard.
The Other Side 2010-11-08 08:33 This article eulogises the Filipino maids; no denying they often do a good job,depending on what youare looking for; but don't forget there are horror stories too. Countries which have longer experiences with Filipino maids, and even SAR Hongkong, have many negative stories to tell. Best to present the other side for readers, especially Chinese readers, to have a more balanced picture.
For instance, some maids have been reported and indeed convicted of taking revenge on their employers over some unhapiness in their realtions with their employers, harming the little ones, even poisoning them and the elderly in their care; others prostitute themselves on their days off from work, sometimes bringing their clients home when their employers are not in. And as for children speaking 'fluent English' there are doubts too! The 'fluent English'they learned from their Filipino maids is often the Filipino variety, with a strong Tagalog(Filipino language) accent, not easily understood in countries where English is the mother tongue! The picture isn't as rosy as this article makes it out to be! So don't rush out there to get yourselves a Filipino maid!
Filipino Maids 2010-11-08 08:12 Treat them well and win their hearts..once this is achieve uncle sam's influence of brainwashing them against China will fade...one less nemesis..Filipino are good people, but too brainwashed by their uncle sam.
http://www.chinadaily.com.cn/china/2...t_11513209.htm